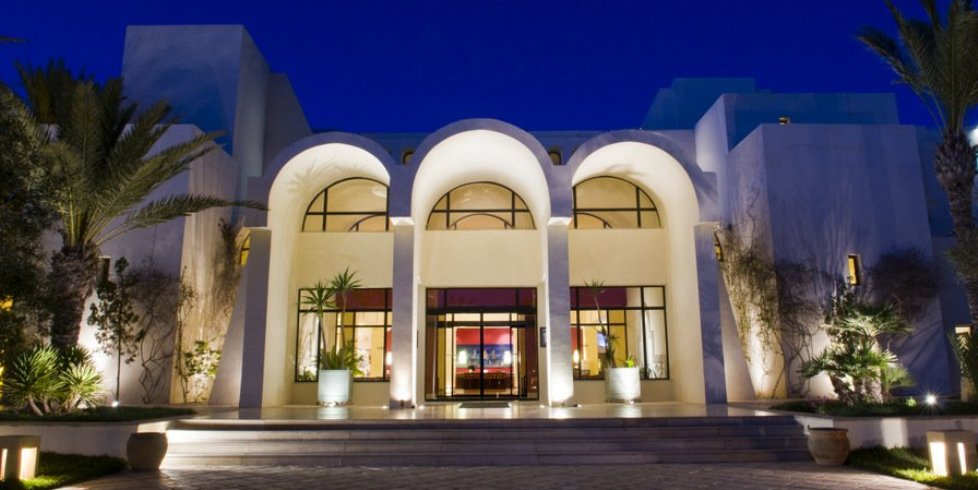 Radisson Blu Ulysse Resort & Thalasso
The Radisson Blu Ulysse Resort & Thalasso is an iconic hotel in Djerba from 1965 which was completely renovated in 2010. This superb hotel in the Moorish style has everything necessary to meet the most exacting demands of its business clientele. The Radisson Group's 'Meeting Experience' concept represents a guarantee covering all the facilities and infrastructure, and turning corporate events, meetings, conferences and team-building trips into a unique experience. The hotel is located on a lovely sandy beach and surrounded by gardens with palm trees, and also features a thalasso spa of over 3,500m².
Activities
Conference
Event
Meeting Room
Facilities
Air conditioning
Private Parking
Overnight
Room service
Suites
WiFi
Catering Service
Free high-speed Internet
Fitness Center and Sauna
Restaurant
Auditorium
Location
Green
Airport
City Center
Waterside
Coast
Meetings
The Radisson Blu Ulysse Resort & Thalasso features a beautiful, authentic Berber tent measuring 380 m² on the hotel grounds, in which you can organise meetings for up to 300 participants. There are also several break-out rooms. The tent is located in the midst of an attractively landscaped flower garden and is equipped with comprehensive modern audiovisual equipment and an ultra-fast Internet connection.
Conferences
In the hotel's beautiful Berber tent, in the midst of a delightful flower garden, you can receive up to 300 conference delegates in complete comfort. Several break-out rooms can be provided around the tent. The hotel also has 238 elegant, modern guest rooms and a magnificent wellness centre. There are numerous possibilities for team-building programmes and excursions to Djerba, the Sahara and other hot spots.
Events
The Radisson Blu Ulysse Resort & Thalasso is a dream location for magical events. In the beautiful and typical Berber tent in the hotel's flower garden, you can receive up to 300 guests in an extraordinary setting. You expect a unique culinary experience too: a combination of international and local cuisine adds the finishing touch to a unique occasion.